CONSTRUCTION OF
PISTAS DE TENIS DE RESINA
¿Cómo se construye una pista de tenis de resina?
A number of aspects need to be taken into account in its application:
Sobre el soporte no haya materiales que puedan impedir la adherencia del posterior revestimiento, tales como: polvo, partes sueltas o no adheridas, parafinas, florescencias, manchas de aceite o capas sucias de resina, restos de pinturas no acrílicas o de productos químicos. Antes de iniciar el proceso, deberá eliminarse cualquier otro residuo que pueda comprometer la adherencia del propio revestimiento. Si el soporte estuviera contaminado con dichos elementos, se deberá realizar necesariamente la preparación mediante intervenciones específicas.
La resistencia al arrancamiento del soporte ha de ser superior a 1,5 N/mm².
El soporte ha de ser lo más plano posible y, en todo caso, con pendientes no superiores al 1,5%.
El soporte no debe estar mojado o húmedo, ya que puede verse comprometida la adherencia del sistema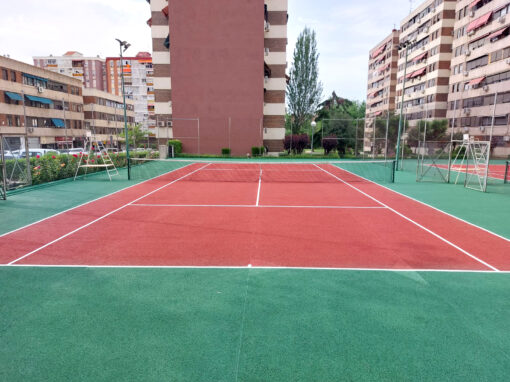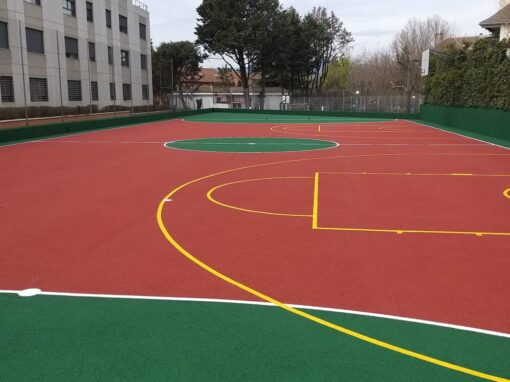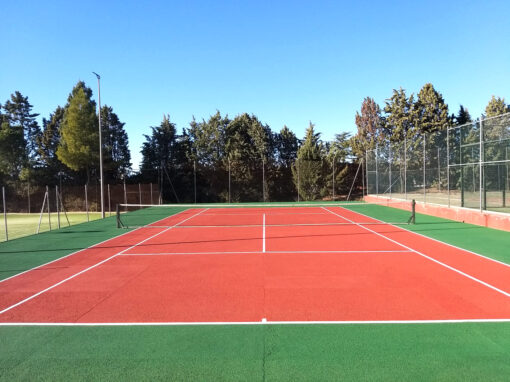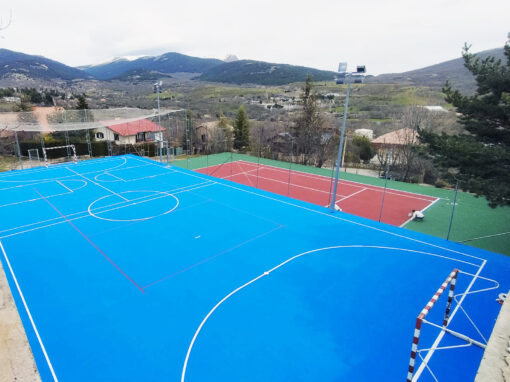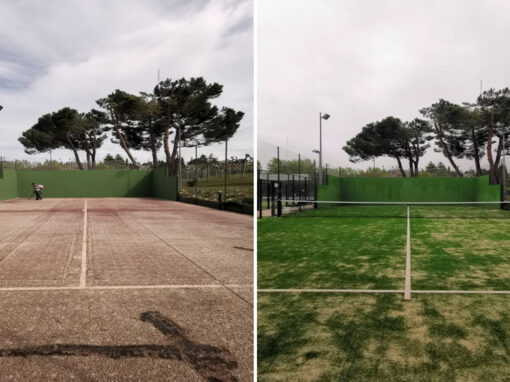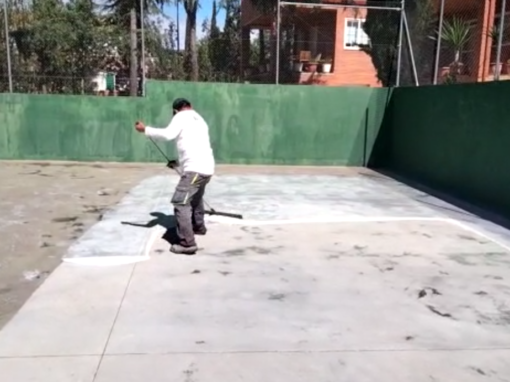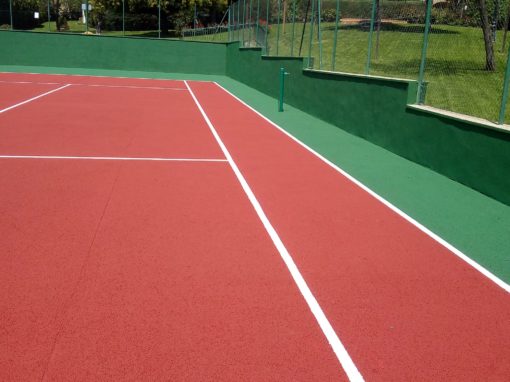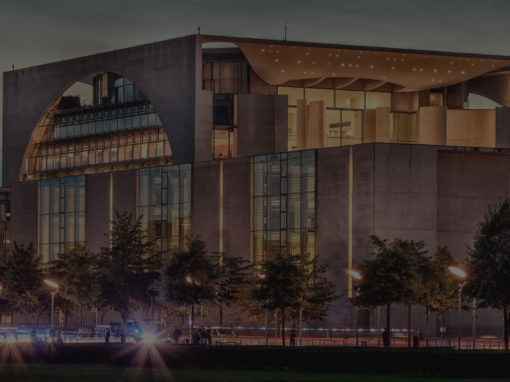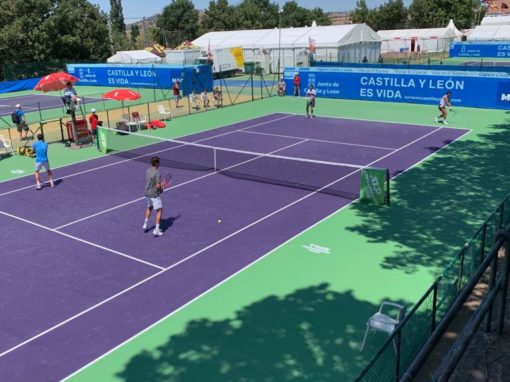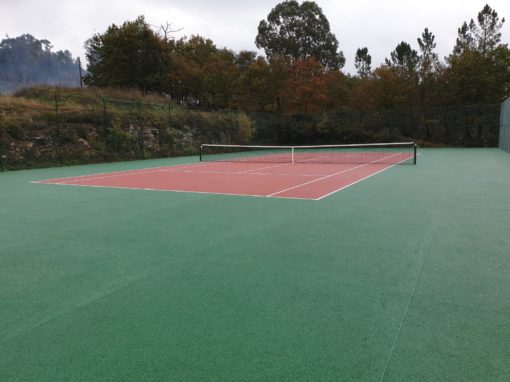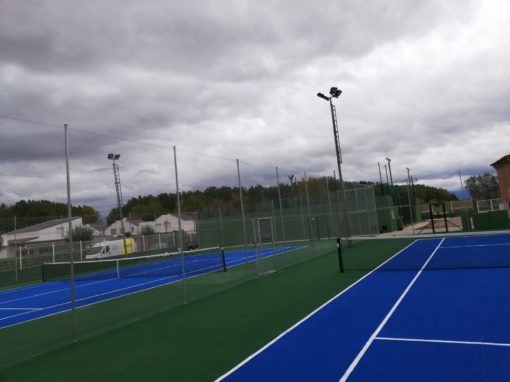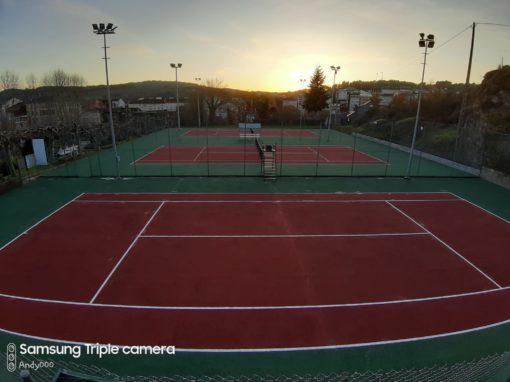 Somos fabricantes de pistas de tenis expertos en esta clase de espacios deportivos.  Empresa de construcción de pista de tenis Reinforce. Aseguramos una instalación perfecta en la que cuidamos hasta el más mínimo detalle para asegurar que nuestros clientes queden satisfechos.
Ofrece variedad de velocidades de juego
Finish 1 (clase 1, superficie de juego lenta)
Finish 3 (clase 3, superficie de juego de velocidad media)
Finish 4 (clase 4, superficie de juego medio-rápida)
Certificado ITF
Pavimento homologado para Competiciones internacionales
Alta absorción de impacto
Diversidad de colores vivos
Pendientes homologadas
Pavimento con pendientes de 0,5-1,5%
¿Cómo se construye una pista de tenis resina?
Sistema Mapecoat TNS Reinforce
 1. Si el asfalto presenta defectos tales como huecos, picaduras, fisuras, se cubrirán con el mismo fondo de relleno del sistema. MAPECOAT TNS WHITE BASE COAT
2. Aplicación con llana metálica o de goma 3 manos de MAPECOAT TNS WHITE BASE COAT, con un consumo de 1,0-1,5 kg/m² por capa, y con un intervalos de 12-24 horas entre las mismas.
3. Interponiendo sobre la segunda capa de fondo la malla de fibra de vidrio resistente a los álcalis MAPENET 150 solapando los tramos al menos 10 cm.
4. Una vez endurecido el fondo, lijar la superficie para eliminar las posibles irregularidades y aspirar el polvo con un aspirador industrial y seguidamente con una llana de goma aplicar el revestimiento coloreado a base de resina acrílica y cargas en dispersión acuosa, MAPECOAT TNS FINISH 1 diluida con un 10-15€ con agua.
5. Consiguiendo un certificado ITF1.
6. Por último la realización de las líneas de delimitación del área de juego mediante dos capas de MAPECOAR TNS LINE diluida en agua con un 10-15% de agua.
Grupo Pineda is a leader in the installation of porous concrete paving . We are experts in this material and its qualities. We are a company that builds sports facilities and playgrounds with decades and decades of experience. A leading company in the sector that operates under a very clear premise: to transform open spaces into leisure spaces that provide people with unique sensations. To achieve this, we make use of a multidisciplinary technical team, in-depth knowledge of the sector and a total professional vocation. We want to give shape to your projects. We want to give you the installation you need.