CONSTRUCTION OF
PISTA DE PÁDEL DE CRISTAL
Padel is there to be played... and to be seen! That's why at Grupo Pineda we are specialists in glass paddle tennis courts. We design and build it for you so that you can enjoy all its advantages.
Somos fabricantes de pistas de pádel expertos en pista de pádel. Cuidamos hasta el más mínimo detalle proporcionado una perfecta instalación para nuestros clientes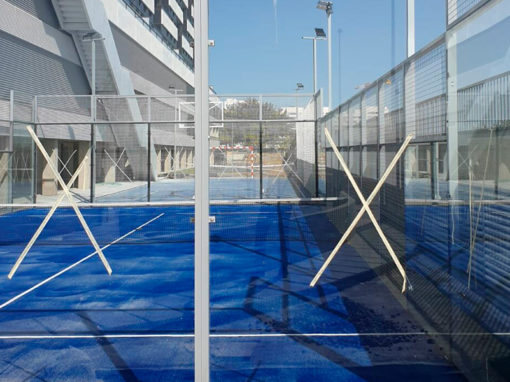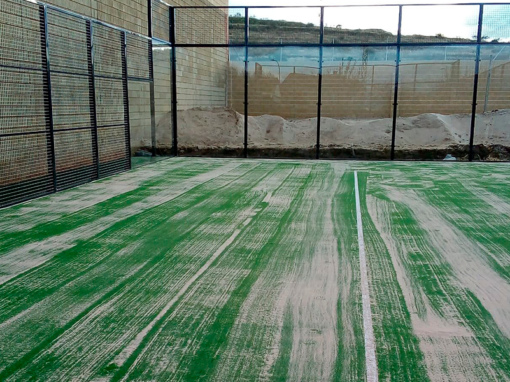 Somos fabricantes de pistas de pádel expertos en esta clase de espacios deportivos.  Empresa de construcción de pistas de pádel con panel glass. Aseguramos una instalación perfecta en la que cuidamos hasta el más mínimo detalle para asegurar que nuestros clientes queden satisfechos.
No. 1 in sales
Grupo Pineda's glass padel courts are number 1 in sales.
For indoor and outdoor use
Ideal for indoor and outdoor use
Modular structure
Modular structure consisting of steel tube frames, welded wire mesh and tempered glass.
Diferentes colores
Available in different colours
Stable and secure
The Pineda padel courts are all completely stable and safe.
Complies with regulations
Todas las pistas de pádel Pineda cumplen con la normativa reglamentaria del pádel para competiciones.
E

Bastidores metálicos formados por tubos de acero, lacados al horno, anclados al suelo mediante tacos de expansión y tornillería galvanizada

E

Malla electrosoldada, cortada a medida con sistema antilesiones de pletina plegada a modo de remate perimetral

E

Vidrios templados de espesor con cantos pulidos y avellanados. Incluyendo kit de neopreno, casquillos de PVC y tornillería antioxidante
How are glass padel courts built?
At Grupo Pineda we have a special feature. And that is that we don't just design the glass paddle tennis court, request the necessary elements from third party companies and join them together in your space to manufacture it. Because we have our own workshop. In that sense, every single detail of our courts is designed by our professional technicians. We leave nothing to chance. We leave nothing in the hands of other companies. We offer a seamless all-round service.
This applies both to the construction of the panoramic padel court and to its maintenance. After all, even the best courts can suffer deterioration as a result of external environmental influences, misuse or simply the passage of time. We take care of inspecting your courts and solving any diagnosed incidents. With us, your panoramic slope will always be in top condition - we are committed to you!
What glass is used in the construction of padel glass courts?
To design a professional glass padel court, we must refer to the official regulations drawn up and implemented by the International Padel Federation. At Grupo Pineda, with more than four decades of experience in the manufacture of padel courts, we know these regulations in detail. When we add to that the fact that we manufacture our own components in our workshop, we obtain a total guarantee. Our courts enjoy the best value for money.
There is no doubt about that at this point. We manufacture more than two hundred sports courts every year, which has allowed us to become an absolute reference in the sector. No other court has the level of construction of our Padel Panel Glass and our Padel Panorámica. In addition, we provide the pavement finish in two colours: blue and green. We also offer any colour in the finish of the court structure. Your personalised panoramic padel court.
Estimate for the construction of a paddle tennis court made of glass panels.
Do you want a panoramic paddle tennis court for your home, perhaps for your housing estate, or do you need it for competitive purposes? It doesn't matter. In any case, Grupo Pineda is your solution. After all, we have two professional glass courts capable of satisfying all possible needs. These are competition courts that will delight organisers, players and spectators alike. Believe us: we have been doing this for four decades and our results back us up.
Not in vain, more than half of the sports facilities in the Community of Madrid and the provinces bordering it have our seal. Both our Padel Panel Glass and our Padel Panoramica have robust structures of great durability. In addition, they have a fantastic capacity for integration with the environment. We don't just make functional padel courts. They are also beautiful. Ask for a quote for a glass paddle tennis court now. You won't regret it.
Grupo Pineda is a leader in the installation of porous concrete paving . We are experts in this material and its qualities. We are a company that builds sports facilities and playgrounds with decades and decades of experience. A leading company in the sector that operates under a very clear premise: to transform open spaces into leisure spaces that provide people with unique sensations. To achieve this, we make use of a multidisciplinary technical team, in-depth knowledge of the sector and a total professional vocation. We want to give shape to your projects. We want to give you the installation you need.