CONSTRUCTION OF
CAMPOS DE FÚTBOL
At Grupo Pineda we have been working for years to offer the highest level of sports courts. Our values are clear and we are committed to personalisation, sustainability and efficiency. In this way, we are experts in building quality and professional football pitches.
Muchos de nuestros clientes preguntan cómo hacer un campo de futbol desde cero. Nuestro método de trabajo tranquiliza todas estas inquietudes y ofrece confianza a los propietarios de las nuevas instalaciones.
Since the most important thing for us is to ensure that the client is satisfied, our work begins with a previous meeting in which we can better understand the needs and interests for the sports field, which allows us to differentiate ourselves from our competitors, offering a personalised and very close service. In addition, we take care to select only the best quality materials for the manufacture of the football pitches we make. In this way, we ensure a perfect and conditioned work for the game and for the good maintenance of the space.
Our many years of experience allow us to carry out an optimal installation in the fastest and most efficient way. We work in a professional manner so that the track is ready within the established deadlines.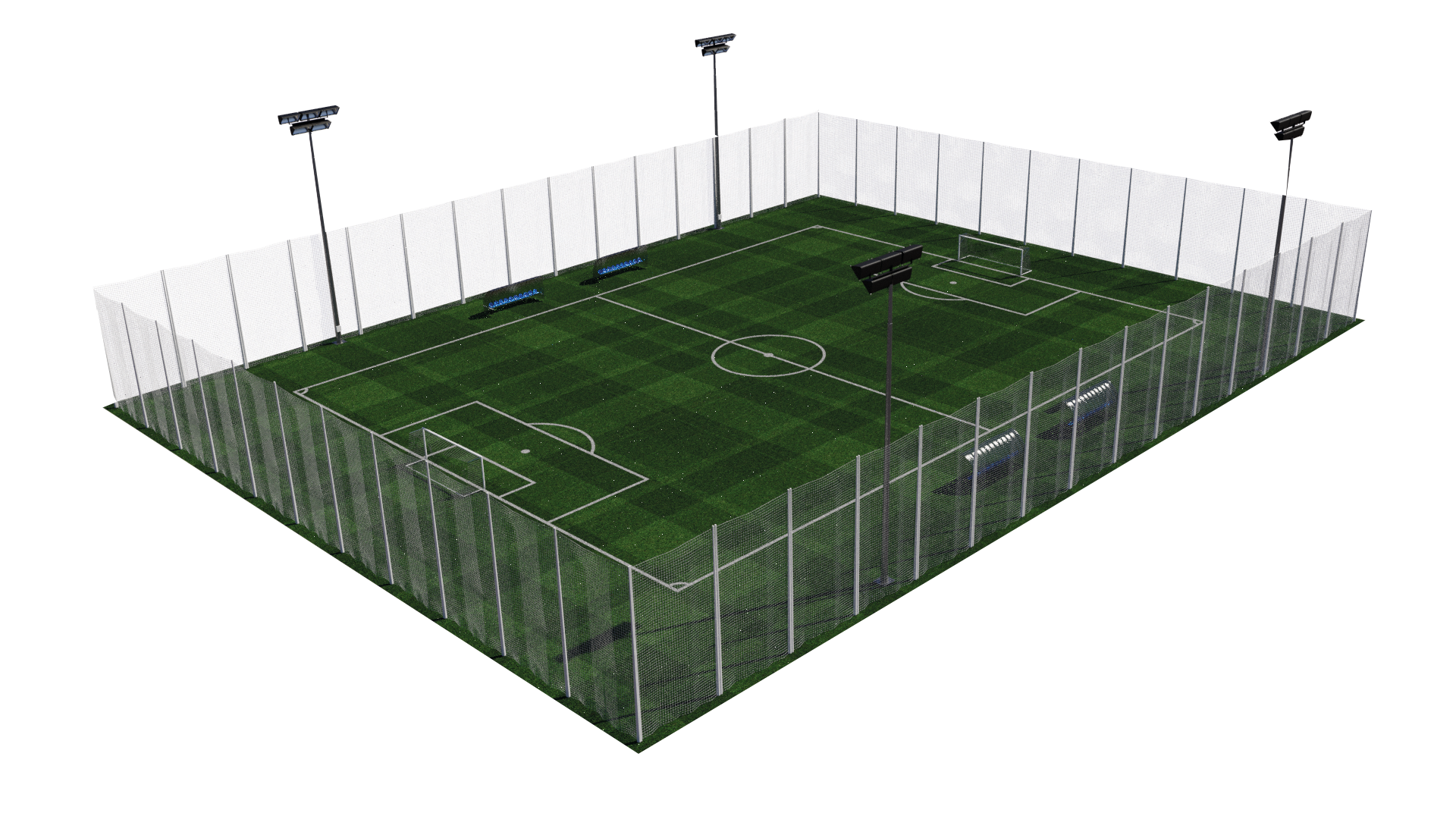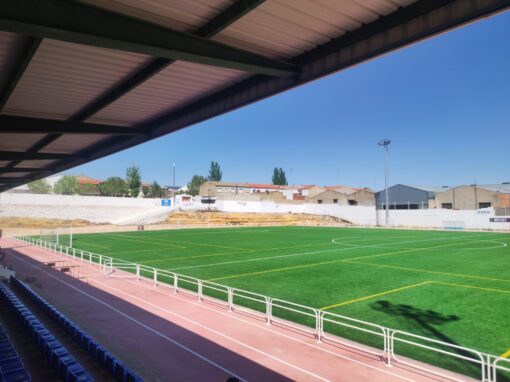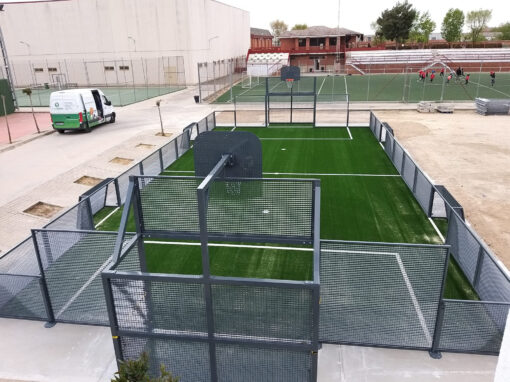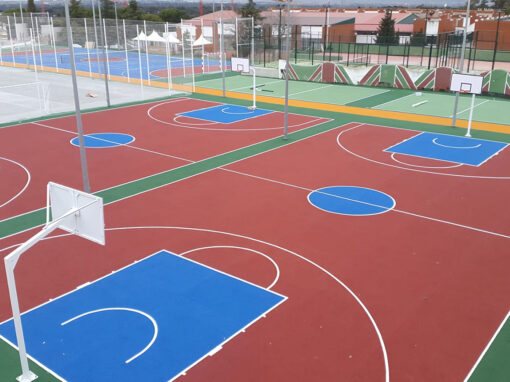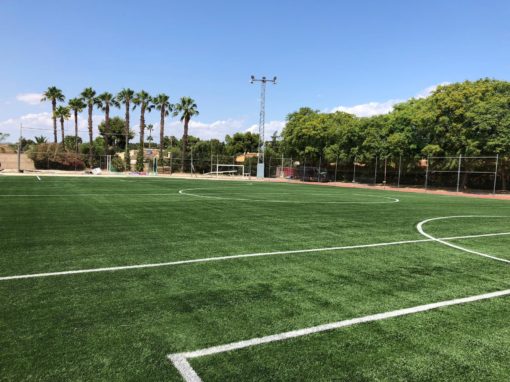 Somos una empresa de construcción de campos de fútbol con multitud de trabajos realizados y años de experiencia. Puedes contar con nosotros.
Ecological paving
The use of porous paving facilitates the achievement of BREEAM and LEED certifications, as less water is used in its manufacture. Its filtering nature facilitates the management of rainwater, avoiding the need for complex channelling that would involve greater alteration of the territory and an increase in the cost of the work to be carried out.
80% savings
The cost of maintenance is reduced by 80%, as it is a vertical drainage system, there is no slippage and the loss of rubber is avoided.
The only maintenance required is the combing, without having to refill the rubber.
Perfect drainage
Its vertical drainage prevents waterlogging and the consequent deterioration of the surface.
It also reduces the reflection of wet surfaces, increasing their safety.
Complete flatness
As a vertical drainage system, the system allows the creation of a level field and ensures a completely flat surface.
Water reuse
The water channelled through the pipes passes through the manholes which, by means of decanting, offer the possibility of collecting the water for reuse in the irrigation system.
No maintenance required
Its filtering characteristics and the high quality of the materials used make it a highly resistant and durable surface, without the need for costly maintenance. Therefore, it provides an economic value to the investment made.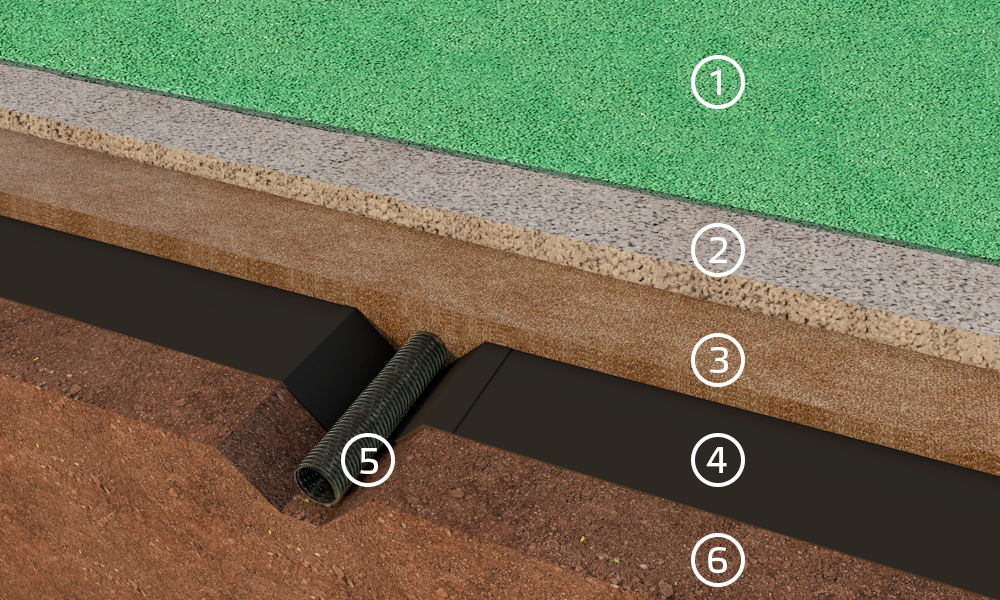 1. Capa de césped de 40-60 mm (con insertado de líneas de marcaje blanco)
2. Capa de hormigón poroso de 6 cm de espesor
3. Capa de nivelación y drenaje mediante gravilla de un espesor medio de 5 cm
4. Lámina de plástico impermeable de 200 g/m2
5. Tubos de drenaje de 160 mm metidos en zanjas y envueltos en geotextil
6. Terreno natural compactado y pendientado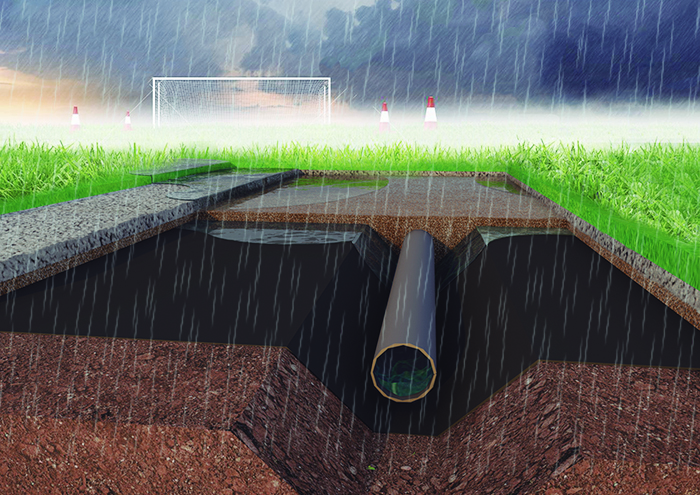 Artificial turf 6 cm + sand + rubber
The water is collected from the football pitch, channelled through the drainage pipes to the manholes and channelled to the reservoir, where it is filtered and stored appropriately. The result is a quality water source that allows the water to be reused for certain activities, thus reducing the consumption of drinking water.
To achieve the ideal quality, the rainwater is filtered and cleaned of large particles, leaves, small animals etc. The rainwater is recovered in an environmentally friendly and economical solution.
Sistema de drenaje: el agua de la lluvia atraviesa el césped, el hormigón poroso drenante, las gravillas y llega hasta el tubo de drenaje en la zanja central envuelto en el geotextil.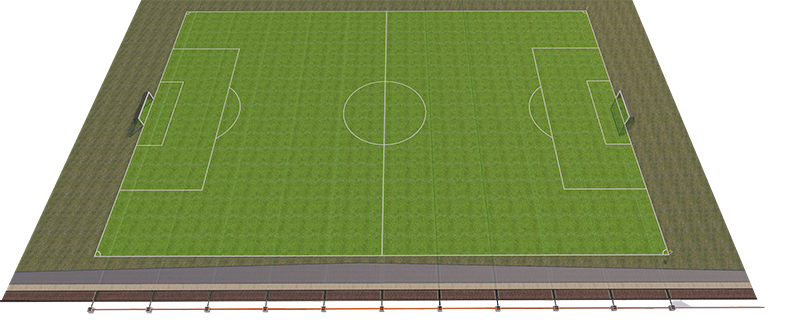 LEVELLING LAYER OF GRAVEL
DRAINAGE - CONNECTION TO MAINS AND IRRIGATION SYSTEM
DRAINING SLOPES TO DITCHES (1%)
160mm DRAINAGE PIPES IN TITCHES TO ARCHES
CONNECTION TO THE MAINS, IRRIGATION SYSTEM AND WATER SUPPLY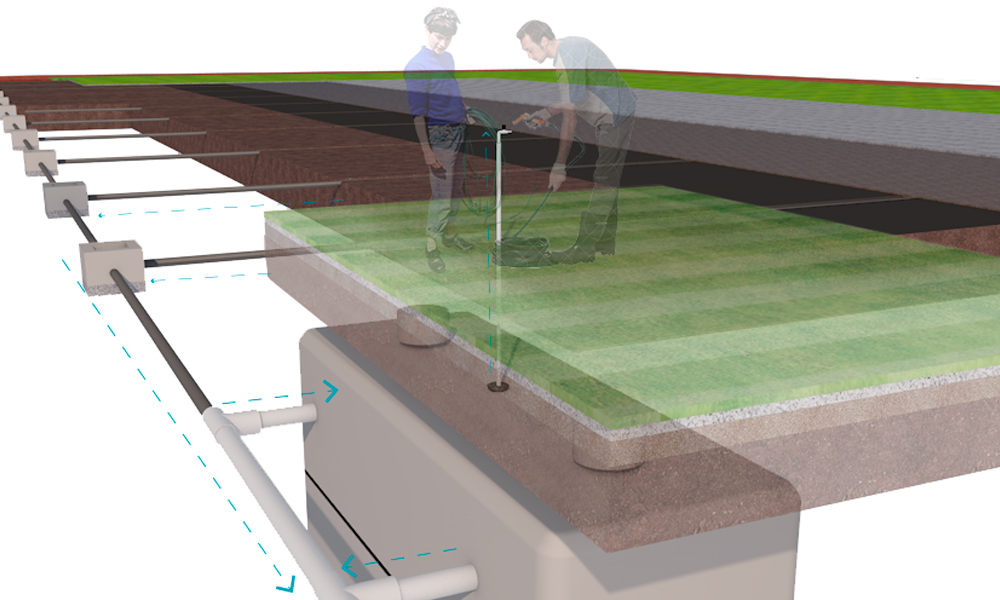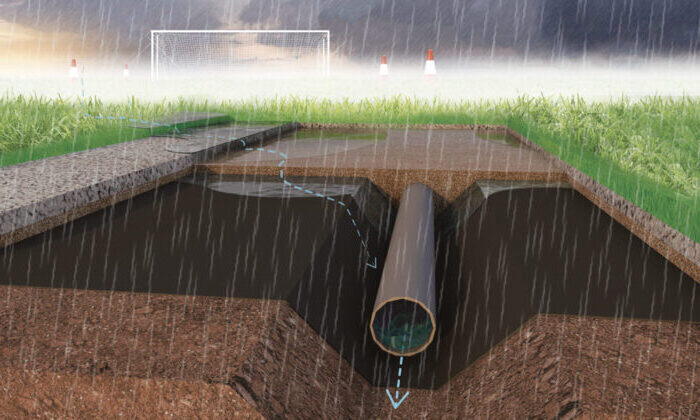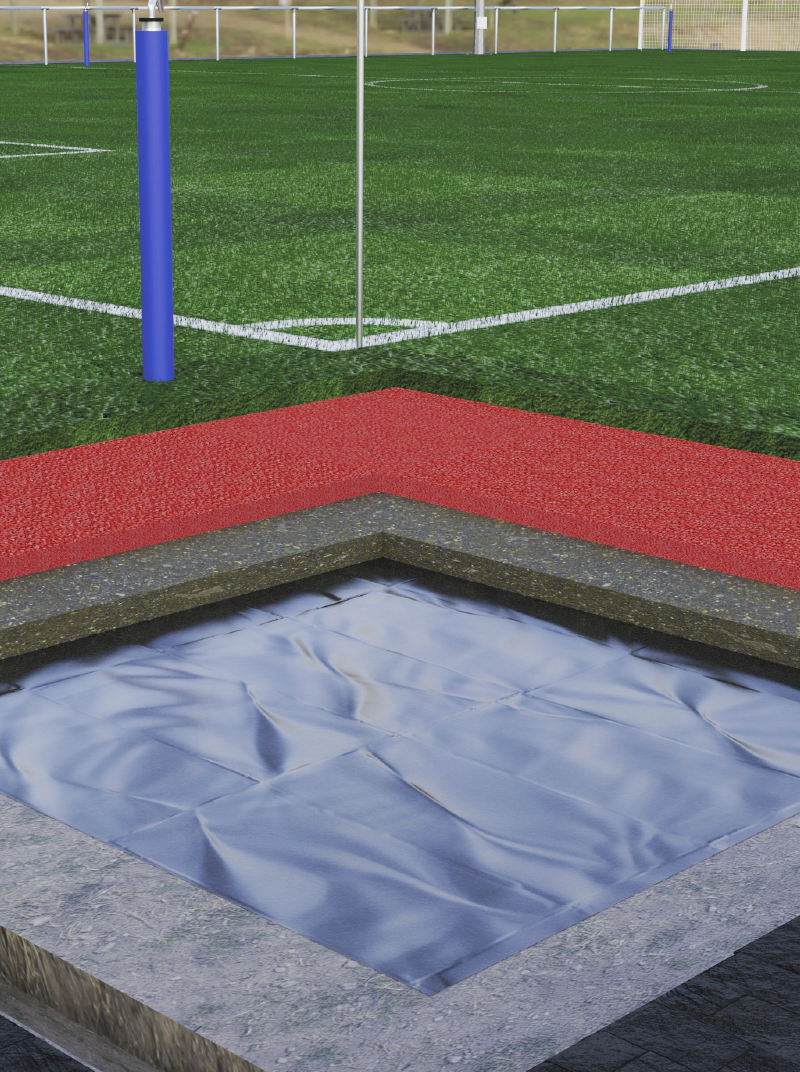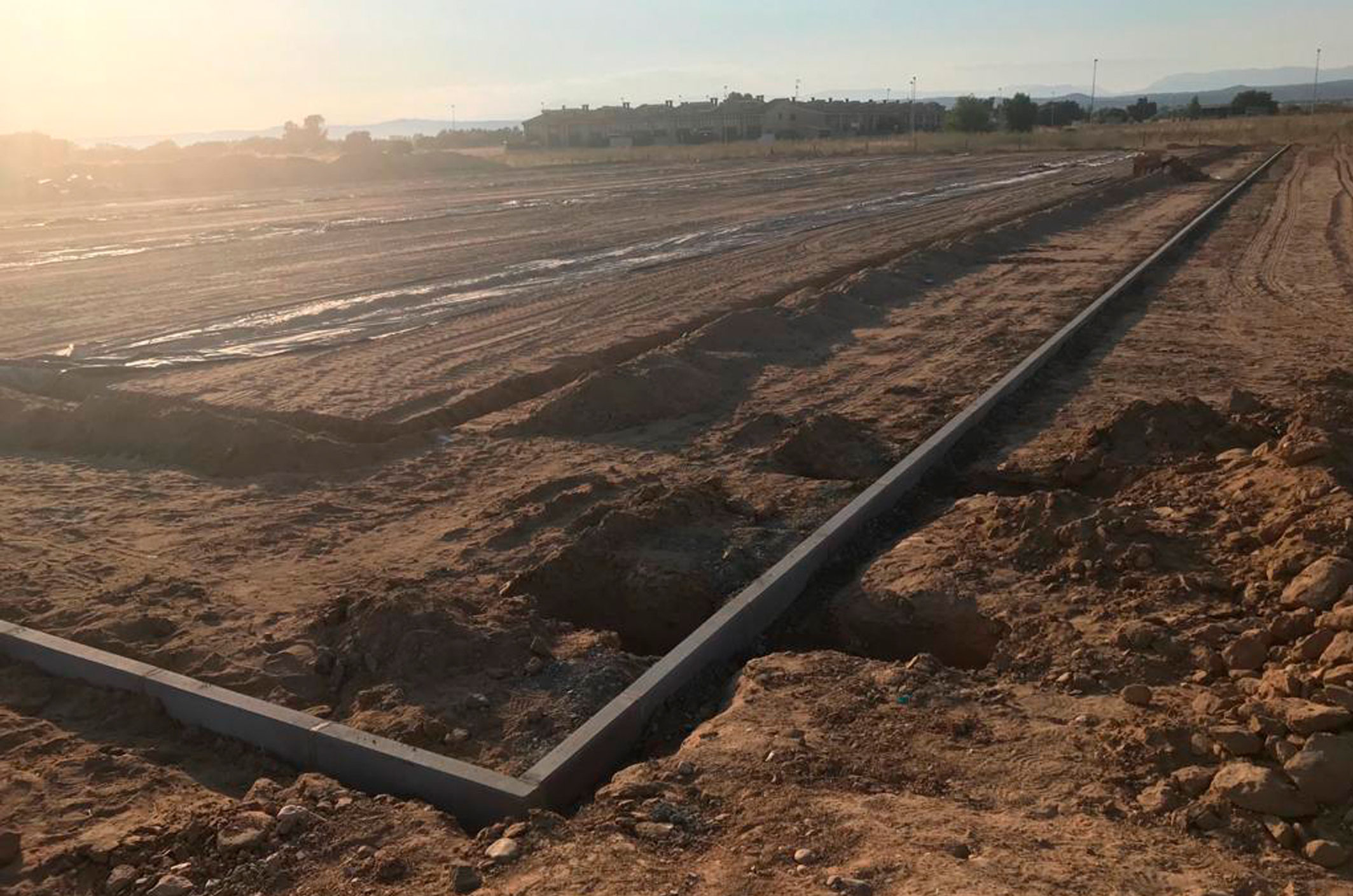 1. First of all, the ground is levelled by creating a system of files and chippings.
2. The trenches are opened and the plastic sheeting and drainage pipes wrapped in geotextile are placed in the trenches.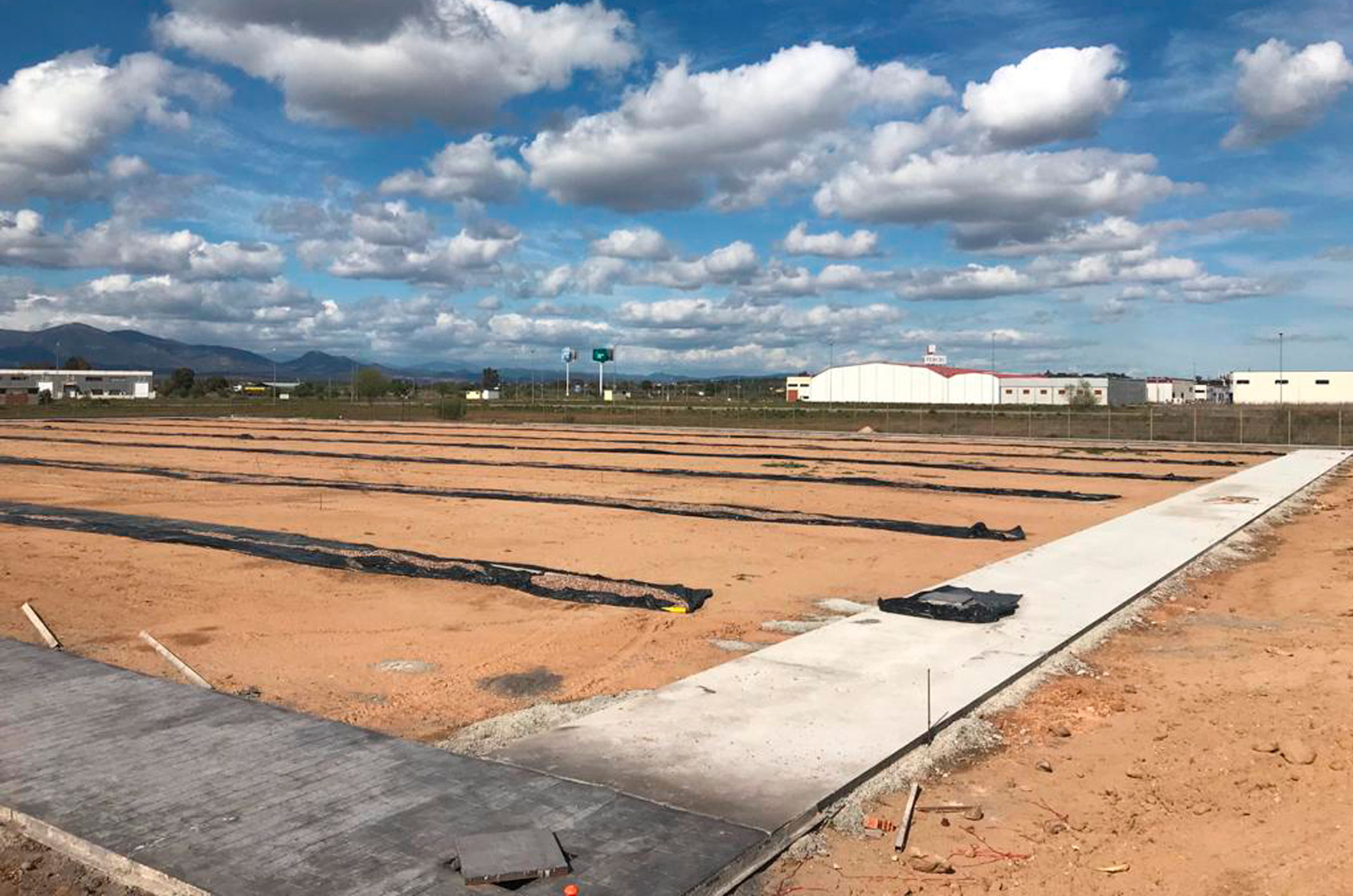 3. Se ejecuta sobre un encachado de GRAVILLAS FILTRANTES de 20 mm de diámetro, con un espesor medio de 5 cm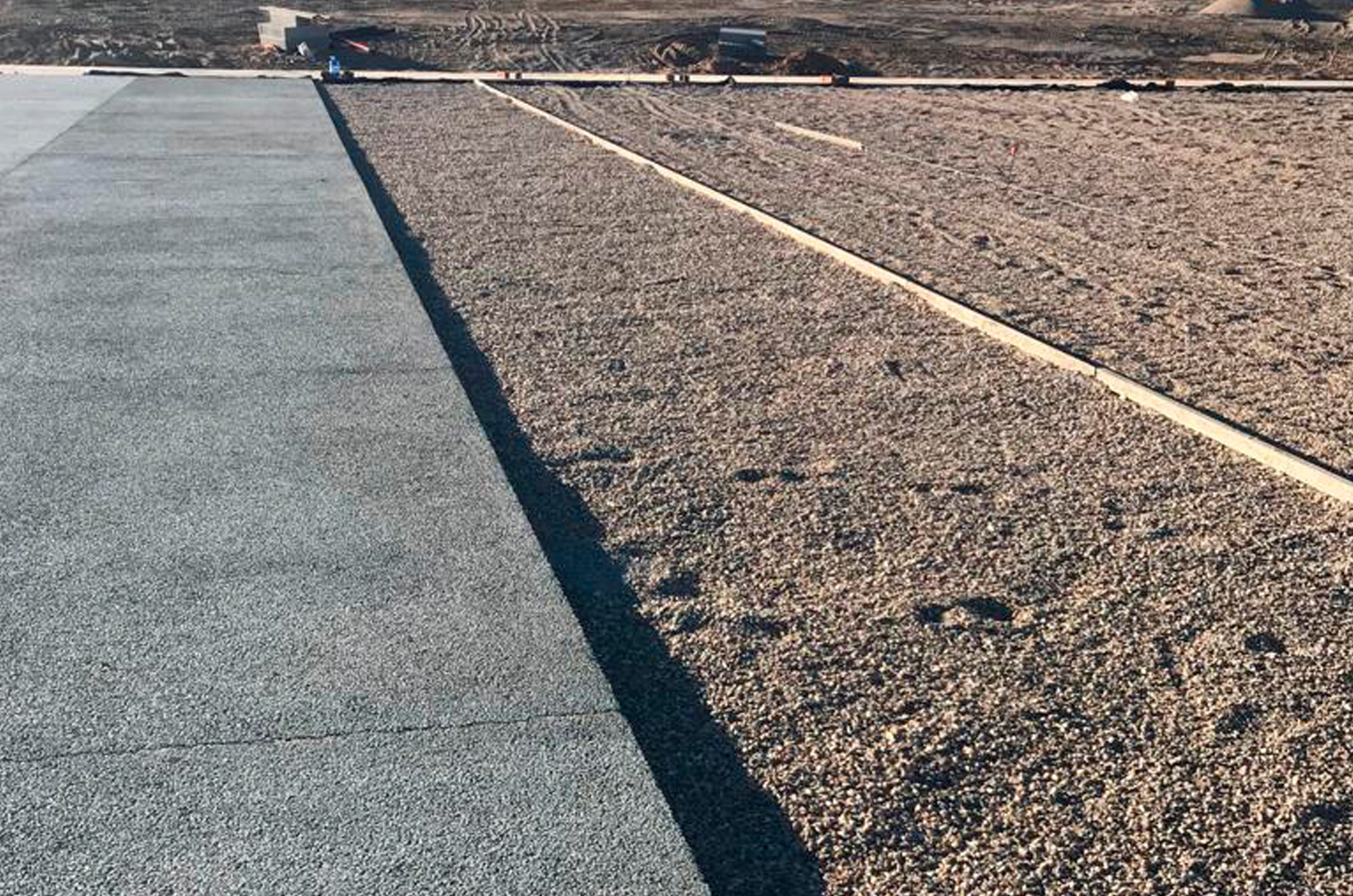 4. On top of the gravels, a 4/8 mm sized GRAVEL LAYER is added to facilitate water drainage.
5. The POROUS CONCRETE layer is executed, with an average thickness of 6 cm and completely level.
6. Por último, suministro e instalación de CÉSPED ARTIFICIAL
We offer the following types of artificial grass on porous flooring: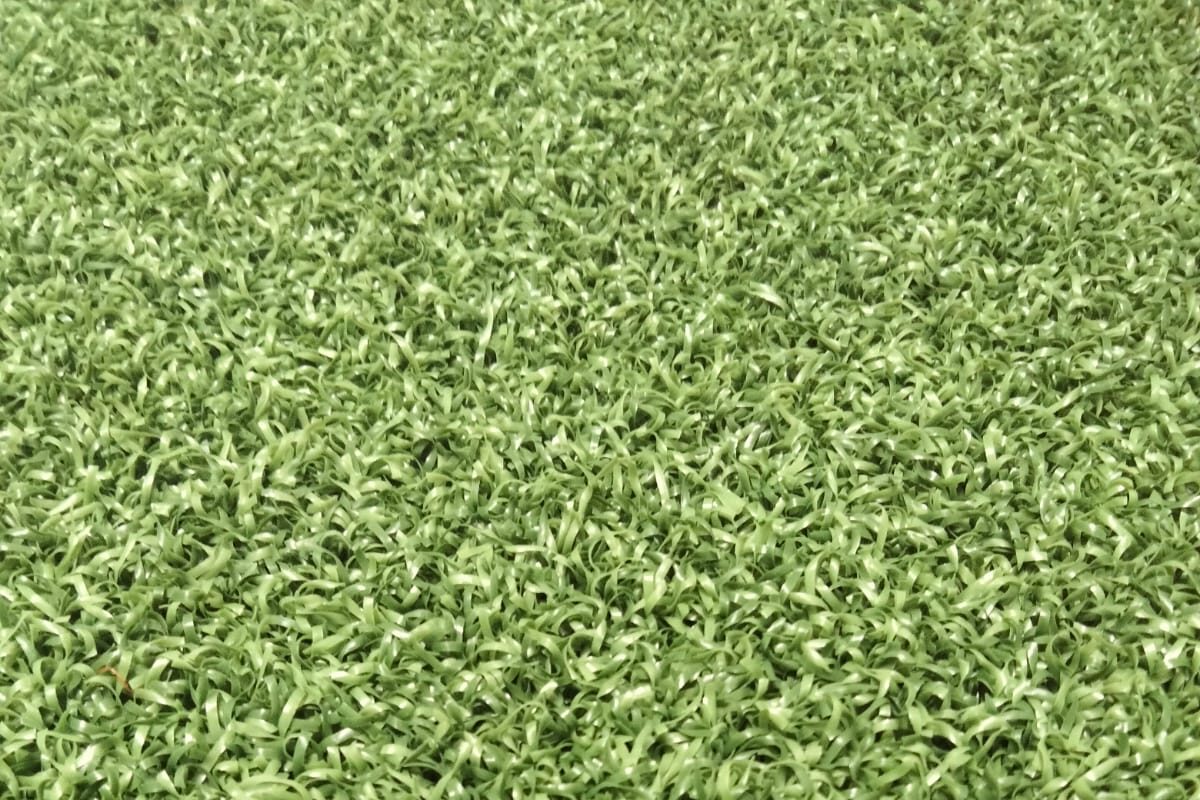 TEXTURISING
The textured turf is made of fibrillated polyethylene fibres, with a very low abrasion coefficient and UV protection treatment. It is resistant to extreme temperatures. Highly durable product, suitable for intensive use installations.
FIBRILATED
El césped fibrilado está fabricado por fibras de polietileno fibrilado, de muy bajo coeficiente de abrasividad y con tratamiento de protección UV. Es resistente a temperaturas extremas. Producto de gran durabilidad, indicado para instalaciones de uso intensivo.
Tramex enclosure
Perforated sheet metal enclosure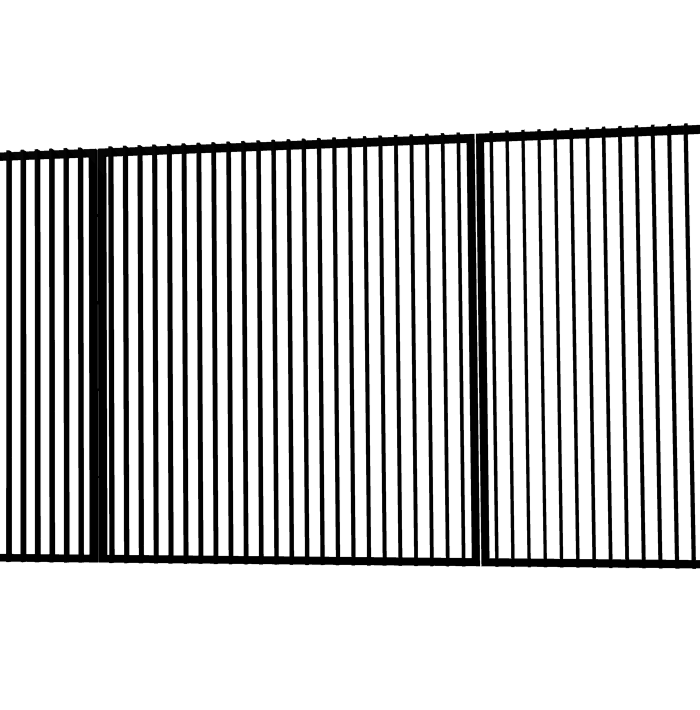 Tube enclosure
Perforated sheet metal enclosure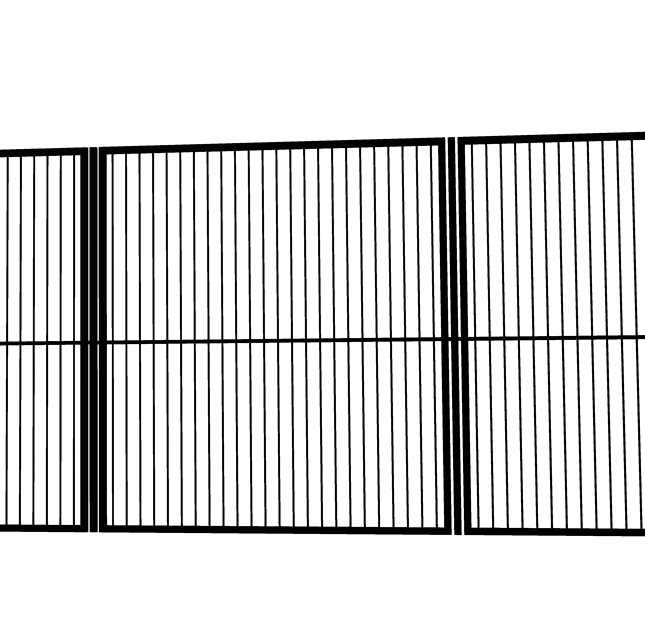 Enclosure bars
Enclosure bars
Leopard LED spotlight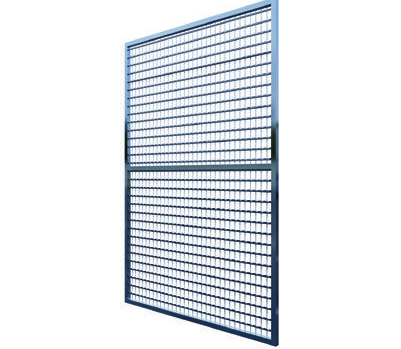 Electrowelded enclosure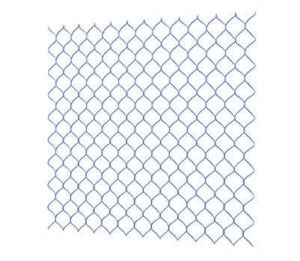 Mesh enclosure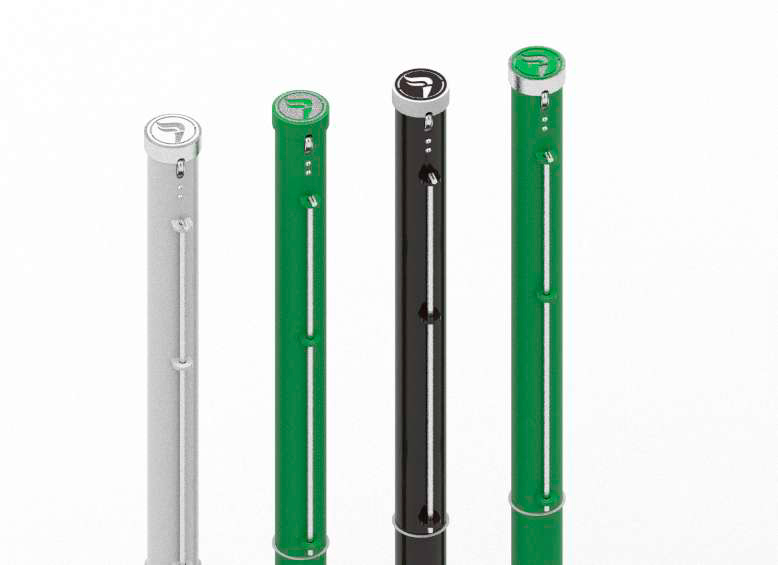 Padel poles and net
Football goal
Multisport goal
Gate grilles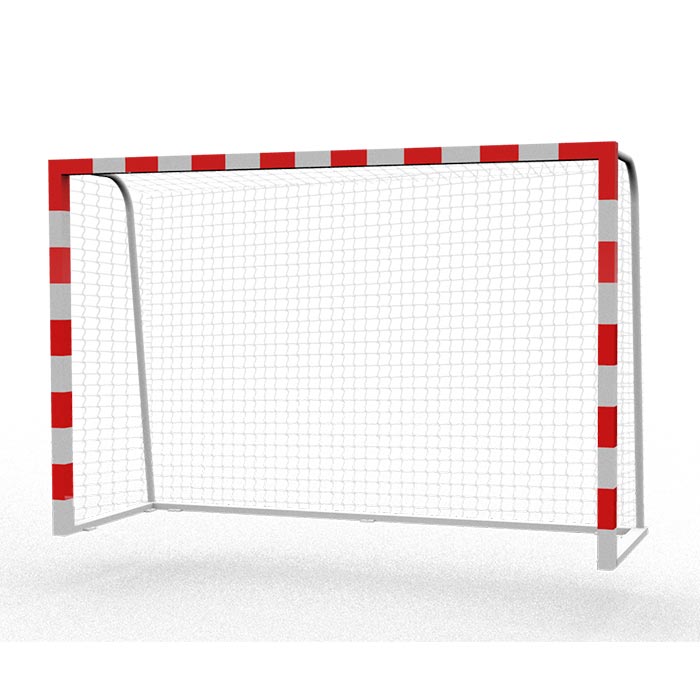 Grille goal
Tennis posts and netting
Why build a football pitch?
Hemos trabajado con toda clase de pistas de futbol, dominando cada una de ellas y pudiendo aconsejar sobre el espacio más adecuado a cada cliente según sus intereses. Para empezar, debemos concretar si el espacio nos permite o necesita la realización de una pista de futbol indoor o si, por el contrario, se tratará de un espacio al aire libre.
Además, también hay que seleccionar el pavimento más adecuado para la pista. En Grupo Pineda somos expertos en la construcción de campos de futbol de césped artificial, una superficie fácil de mantener y con gran durabilidad. Por otra parte, también nos encargamos de las pistas de futbol con césped natural, una superficie que puede resultar de gran utilidad para el juego, pero que implica grandes gastos de mantenimiento. Además, nos ocupamos de los campos de tierra de futbol asegurando que el balón circulará de manera correcta y asegurando un perfecto sistema de drenaje.
Advantages of the construction of a natural grass football pitch
The dimensions of the football pitch can vary according to the client's needs. At Grupo Pineda we are experts in the regulatory measurements of a football pitch.
This allows us to perfectly control the installation of these spaces ensuring that the technical requirements for the game are met.
In all sports, the distances and spaces within the sports fields play a very important role. The dimensions of a football pitch are not decided at random, but must meet the requirements of the game.
Our priority is our customers and their needs. Contact us without obligation and we will advise you on the size of the football pitch that your sports field should have. We will be delighted to help you build the perfect space to practice your favourite sport.
Reasons for building an artificial turf football pitch
Believe it or not, the sizes of football pitches are very similar. However, some seem much larger than others. The feeling of spaciousness of a sports field will depend to a large extent on the location of its stands and the capacity of the spectators it can hold.
In addition, we must bear in mind that indoor football courts are very different from those of other varieties such as 7-a-side football, for example. Each space must have the appropriate characteristics for the type of game to be played.
In fact, the measurements are not the only thing that would change. Depending on the type of football being played, the lines of the surface or the surface would also have to be adjusted to the game.
Our professional experts in football pitches can advise you on the most suitable type of pitch for your case and explain the installation or maintenance processes without any obligation.
Grupo Pineda is a leader in the installation of porous concrete paving . We are experts in this material and its qualities. We are a company that builds sports facilities and playgrounds with decades and decades of experience. A leading company in the sector that operates under a very clear premise: to transform open spaces into leisure spaces that provide people with unique sensations. To achieve this, we make use of a multidisciplinary technical team, in-depth knowledge of the sector and a total professional vocation. We want to give shape to your projects. We want to give you the installation you need.